Movies: Con--Extra--produced by Savage Armadillo (not released/status unknown) Not of This World: Survivors of Rimec--Survivor Extra--directed by Joel D. Wynkoop (released 2009) Bite Down Hard--Walter/Co-Lead--directed by Shawn Bach (post production) Weatherby--?/co-star--directed by Shawn Bach (post production) UnExpecting-IMDB--Ken the bartender/Supporting--directed by Kyle Brown/Silent Heat Films (post production) Imported Affairs-IMDB--Extra--directed by Joe Sanchez/Stand As One (scheduled release 2011) Caged Dreams-IMDB--Extra--directed by Pete Guzzo (released 2010) Saving God--Cop in breakroom/Supporting--directed by John Matheny/FMPTA (released 2010) The Chip--Sledge/Supporting--directed by Dotty Pesillo (released 2010) Blood Song-IMDB--Extra--directed by Sidney Majurie (released 2010) As Night Falls-IMDB--Steve/Supporting--directed by Joe Davison (released 2011) The Wish--Bar Patron/Supporting--Mark Edson The Tunnel-IMDB--Kimo's bodyguard/Supporting--Joe Frank/Jack Flores/Infinity (released 2011) Wasband-IMDB--Little John/Supporting--Richard Siggins (released 2011) Life Triangle--Exec. Secretary/Supporting--Joel Bates (post-production) Street Villains IMDB--Muscles/Supporting--Stacenj Bert (released 2010) New America (pilot)--Ken--Michelle Bourbeaux/Barry Alsobrook/BAM Productions (post-production) Way of the Vigilante-IMDB--Mr. Tiberius/Supporting--Marcus Kempton/Aspect Ratio 235 (released 2010) The Cost of Vengeance /Trailer-- Extra--SimoneProductions/Sean Pedan (released 2010) Dingo and Ringo IMDB--Doctor Fields/Supporting--Ranelle Golden (post production) Smooth Aces--Amedeus/Supporting--Joe Sanchez/Stand As One Productions (in production) Cost of Vengeance--Supporting--Simon Prod/ClearSlateFilm/Peter Spirer (released 2011) Mega Python vs Gatoroid IMDB--uncredited/Featured Extra--Asylum Films Baine IMDB video bouncer--Bouncer--Doug Vater/Vater Entertainment Films Truth or Dare IV--Extra--Wynkoop Productions What They Seem IMDB--Supporting--Ken Anthony II and Rich Keen/AL Studio/VEF (post prod.) The Looking IMDb--Eddie/Supporting--Sidney Majurie Wait, What IMDb--supporting cas--Sasha Wulf/Fractured Images Housewife Slasher--Featured Extra--Chris Leto/Reaper Films Mr. Engagement IMDb--Extra--Joe Davison/PopGun Pictures Shock House IMDb--Supporting--Nick Cuti/Ni-Cola Entertainment House of Blood IMDb--Supporting--John Rusnak Dream Weaver Chronicles Vol 3: Redemption IMDb--Supporting--K. Weaver/Cold Fusion Filmworks Survival Instinct IMDb--Keifer Marshall Lugosi/Co-Lead--Ken Anthony II/Artistic License Studio Lady without Substance--Apollo/supporting cast--Nick Cuti/Ni-Cola Entertainment Magic Mike-IMDb--Extra--Steven Soderbergh/Nick Wechsler Productions Dead Buzz--Apollo/Supporting--Johnny Bradjic Free Ride-IMDb--Extra--Shana Sosin/Aberration Films/SCAMP Christmas Snow Angels-IMDb--Radio Announcer-Voice Over-Rich Siggins/Siggybunk Productions Sunlight Jr.-IMDb--Extra--Laurie Collyer/Original Media/Freight Yard Films/Alchemedia Films Spring Breakers-IMDb--Archie's thug/Extra--Harmony Korine/Muse Prod./O' Salvation Change of Hart--Biggz/Supporting--Chris Greene (Cine Enigma Studios/Detour Ent. Prod.) Attorney at Low-IMDb--Jury Foreman/Supporting--Richie Siggins (Siggybunk Productions) Free Love--Hitman/Supporting--Barbara Wilcox (Perspective Pictures) Roxy-IMDb--Eddie with Security/Supporting--Larry Giorgio (in Production) Daughters of the Rich--Featured Extra--John Matheny S.O.L.-IMDb--Jonathan "Duece" Jackson/Supporting--Tamatha Coto (Artistic License Studio) The Other Side--Dom Sing/Supporting--Joel D. Wynkoop/Wynkoop Productions It's Only A Job--Mooney/Supporting--Barbara Harrington/Nils T. Carlson Electric Lady--Extra--Ziad Ahmed/FMPTA The Shifters--Supporting/Voice Over--Ami Blackwelder Is It Safe-IMDb--Mr. James/Small Car Customer--Tony Stinyard/Cine Enigma Marry Me--Pastor/Extra--Isiah Miller/Standard Protocol Productions DeS.O.L.ation-IMDb--Jonathan "Duece" Jackson--Tamatha Coto/Artistic License Studio Sex Ed-IMDb--AA member--Isaac Feder Mr. Empty-IMDb--Leo Kraska/Artistic License Studio S.O.L.stice-IMDb--Jonathan "Duece" Jackson Jr.--Tamatha Coto/Artistic License Studio Fiesta Funeral-IMDb--Barbara Harrington/B. Harrington Productions Monsters-IMDb--Don/Lead--Isiah Miller/Standard Protocol Productions The Night Shift: The Sad Man--Kelly D. Weaver/Terminal 52 Films Skumbagz IMDb--Hustler--extra--John Miller/The Sleazebag Eye iWatch IMDb--Detective Malone--Bobby Washington/B Dubb Entertainment GeoSlashing--Killer--Leo Kraska/Ashen Jackal and Artistic License Studio Nat Geo: Crowd Control: People Don't Listen--self--National Geographic Speed Dating--Clown--Cindy Krapfel/Bouncy Boxer Media Nutz--?--Tony Stinyard/AMS Visions and Productions (Untitled)--Detective--Diana Riggs/Brian Kahrs Devils Blood-Rebecca Sharing--AA Member--Termaine Jenkins/Film Punks Dear Baby--Shimiqua Demmings--UT Project Off Guard--Fake Fletcher--Leonidas Alexander/Xingcore A Change of Wear--Detective--Katrina Wallace/Sunscreen Film Society War Is Hell--Veteran--Dave Mintzer McClane--John McClane Jr--Leo Kraska/Artistic License Studio Upcoming film projects: Pythia--Markus--Leo Kraska/Ashen Jackal/Artistic License Studio Slash Cam-IMDB--Big Ben--Tony Stinyard/Artistic License Studio/Cine Enigma (Pre-Production) Iron Mike--Don King--Larry Giorgio (Pre-Production) Planet X (tentative title)--Supporting/father--John Williams/Paparazzi Ent (Pre-Production) The Anarchist--?--Dave Mintzer ReS.O.L.ution--Jonathan Duece Jackson--?/Artistic License Studio Detached--Detective--John Williams/Paparazzi Nothing Can Stop Me--?--Anjani Pandey/Nukkad 11-1--Juror--Andrew Allen Television: Behind the Scenes with Al Alvarez--self/guest--Al Alvarez Flingy--self/guest--Flingy The "New" Joel D Wynkoop Show--self/guest--Wynkoop Productions/Main Street Studios Joel D. Wynkoops The Other Side--supporting (Dom Sing)--Wynkoop Productions The Come Up--supporting (Mack)--Leger Film Studios Live Prayer--Self/Studio audience--Bill Keller Video: Just2Nite-self-Ken Anthony II/Romane Simon Forum/Let's Talk--cameo as myself--directed by Yousef Abdul-Raheem Lone Wolves--unnamed extra--directed by Brandon Michael Lewis/Epic Dawn Productions (fan video/film released 2009) Imported Affairs (title track)--myself-directed by Joe Sanchez/Stand as One Cameron Decker/Haven't Met You Yet (cover) --unnamed extra--JT MultiMedia/Joseph Dono Zach King/1-25-Bouncer-Tycor films/Big Gates Records Voisier He Just Ain't Right-Raul Sanchez Kibwe Dorsey-Let Me Hold You-All For The Love Entertainment Sam Letric-G+S (Grown and Sexy)-Cine Enigma Krazy K-?-Cine Enigma Commercial: Beef O' Brady's commercial 2013--Share or Else customer--Beef O' Brady's Beef O' Brady's commercial 2013--"bedhead" customer--Beef O' Brady's Toronto Blue Jays commercial 2013--miscellaneous fan--Toronto Blue Jays Tampa Con commercial--Luke Cage--Doug Vater/Joel D. Wynkoop (VEF Productions/Wynkoop Productions-2010) Gator Glyss--featured extra--Ian Stevens/1-2 Punch Productions Battle Royale--unnamed extra--directed by Brandon Michael Lewis/Epic Dawn Productions(scheduled release 2010) Moonie trailer--alien space pirate--Nick Cuti Rentstudiotime.com--myself--Matt Morey/Rentstudiotime.com $49 Down Car Commercial--buyer--Unk Prod. Company Internet based series: Nerd Shuttle--Host--Red Gear Studio/Artistic License Studio (Season 1 Ep. 1) Apocalypse Boyz--Big Zombie--Apoc Boyz (Season 1 Ep. 2) La Fleur de Mai--Julian-- Durand Saint-Hilaire The Sleaze Box--Pimp/Monster--Chris Woods/John Miller (Season 1 Ep. 1 and 5) Rocks--Supporting--Isiah Miller Hells Bounty--supporting cast--Main Street Studios Dead Pulse--unnamed recurring character--Joe Sanchez/Stand as One Prod. Apocalypse Boyz--Bootsy Footgraves--Apoc Boyz (future episode-Season 2) The Grey Room Saga: The Rise of the Nine Realms-IMDB--Preston Walden/Dominion Pictures Theatre: 12 Angry Men--Juror # 12--Ian Stevens/Countryside Christian Ctr Theatre Ministry Fragile Fate--Libra--Lloyd and Jan Wilson Model: Heart of Heroes (comic book-reference model) Lightning Rod (comic book-reference model)
Bobby Washington's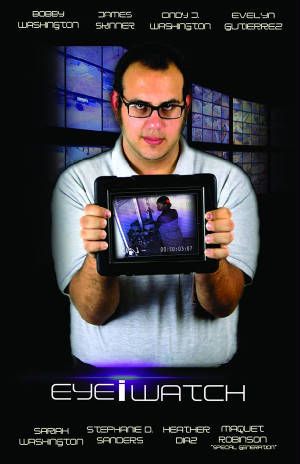 Eye iWatch
If you haven't seen it yet, check out the first installment in the Artistic License Studio Franchise, S.O.L., that I wrote, Produced and appeared in!!!
The sequel to the well received short film, S.O.L., DeS.O.L.ation is upon us.
Check out the Trailer for my film As Night Falls
Here's the trailer for my recent short, Shock House, by Nick Cuti (movie: Tagged, comics: E-Man/Moonie)!!!
Kelly D. Weaver's The Night Shift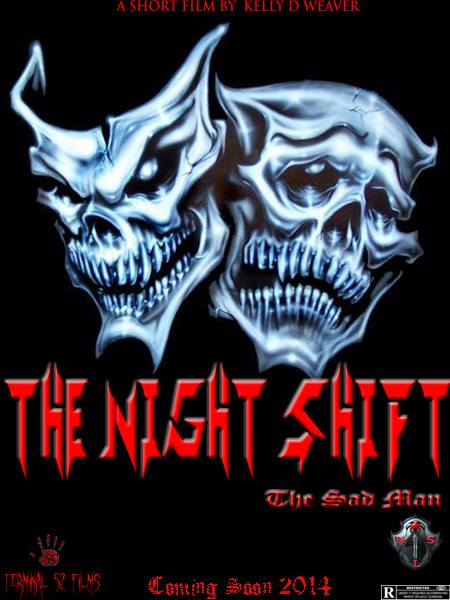 The Sad Man